For commercial property owners and managers looking to mitigate liability risk by improving safety for tenants, briteOWL® is the only power failure light fixture that prevents falls while lighting the way in an emergency. Unlike expensive hardwired emergency lighting, briteOWL is low cost and easily installed by maintenance staff. Help your clients realize that you put their well-being first by installing backup lighting. They will appreciate your efforts, whether it is their family, employees, or customers' lives that you're keeping safe. Join OWL Power Solutions® today in our mission to innovate simple power solutions.
ADDING VALUE TO COMMERCIAL BUILDINGS
Employers do not want to pay for injuries on top of other costs when the power goes out. People naturally panic to some extent when the lights suddenly shut off. BriteOWL®'s backup light feature will help light up the space—keeping employees and customers calm and safe. 
The rechargeable battery in the briteOWL® provides 90 minutes of light during a power outage, while the 50 lumens of light will help brighten office spaces, hallways, and stairs—adding value to any commercial building. The nightlight feature in these light up outlet covers, doubles as a safety light in commercial buildings, as it will light the way and help avoid tripping and falling accidents when it's dark. Buy briteOWL® in bulk today for your commercial building contracts!
ADDING VALUE TO RESIDENTIAL BUILDINGS
Replacing the normal outlet covers with briteOWL® in the homes you're contracted with is an easy and affordable way to add value. Your clients will appreciate that you go above and beyond for the safety of them and their family members. The briteOWL® is not only the most reliable nightlight on the market, but the built-in rechargeable battery provides backup lighting for when the power goes out. 
Kids will love the way that the LED light brightens their bedroom or bathroom to make it less scary in the dark, and helps guide them throughout the house to avoid injury. An extra benefit of the briteOWL® is the fact that the LED light is built into the outlet cover itself—leaving both outlets open for regular use. Partner with us by making briteOWL® your top choice of outlet covers today!
ADDING VALUE TO CARE FACILITIES
Hospitals and senior living centers are just two examples of care facilities that could benefit from having briteOWL® installed throughout them. Most of these types of facilities have backup generators, but those moments before that generator kicks on can be valuable. Patients or residents that are unstable could easily be injured in seconds due to a power outage. Install briteOWL® to help light rooms, hallways, and stairs to keep everyone safe.
Contact OWL Power solutions® today if you have questions or concerns!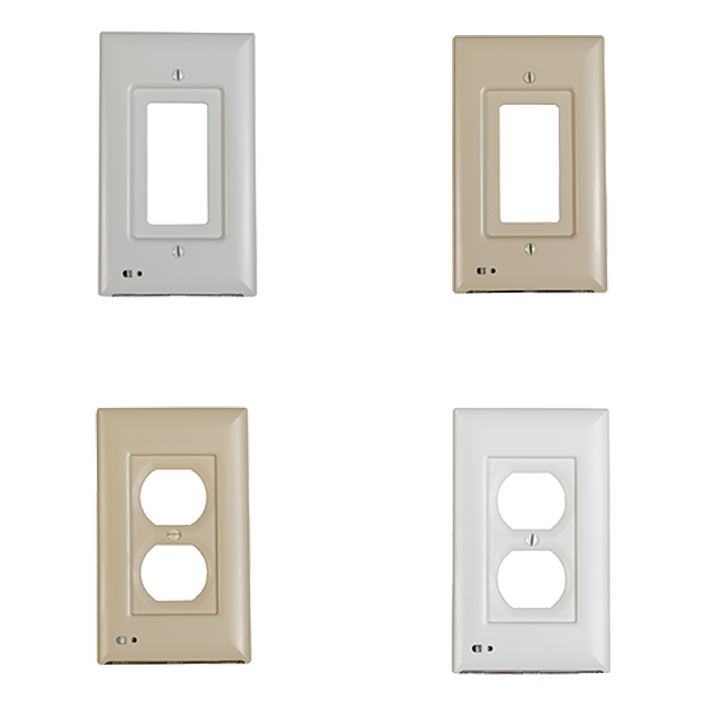 I bought 6 units 2 months ago and have installed in areas of my home. I've found them to be very useful for night lights. Easy to install and made with very good material. Haven't used in power failure yet but I'll feel more confident when I do.
-Glenn Wright 
Arrived soon after ordering, easy to install!
-David Twiss
I have a condition that causes me to easily lose my balance and fall. A dark environment results in a situation in which I am unable to walk without assistance. This device will provide ample light during a power outage for me safely move with out waiting for help
-G.L. Hodge 
PARTNERING WITH OWL POWER SOLUTIONS®
If you already have contractor logins and want to make an order, you can log in here and then head over to the product page to place your order. 
The plugless nightlight and backup light combination of the briteOWL® is one you can't pass up. We offer both the standard outlet design or the decora design in colors of almond and white for each. Click here to learn more about how the briteOWL® light-up outlet cover works and steps for the easy installation process.
Contractors and developers use briteOWL® to add value to their work and to gain the trust of their clients. Replacing standard outlet covers with the briteOWL® is an easy and effective way to take your work to the next level. Contact OWL Power Solutions® to partner with us today, and receive a discount when you buy briteOWL® in bulk!